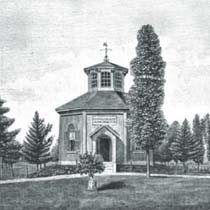 The Goodnow Library, c1888

Etching by J. S. Conant, from Alfred S. Hudson, History of Sudbury, 1889
Research
Our Collections
Doing Research at SHS
Links and Resources
Links & Resources
There are many online resources available for anyone interested in learning about the history of Sudbury. The following links may help you get started in your research.
Related Organizations in Sudbury
Several other commissions and organizations in Sudbury work to preserve the town's heritage.
Some Massachusetts Resources
There are a large number of resources in Massachusetts available for researching local history. These include:
Historical Societies of Towns Adjoining Sudbury
All of the towns adjoining Sudbury have active Historical Societies.