Sudbury Center, c1907

Real-photo postcard published by E. L. Fisher
About Us
Who We Are
Our Staff
Visit Us
Contact Us
Our Staff
Rachael Robinson, Executive Director
Rachael started at the Sudbury Historical Society in 2020, right as COVID was taking ahold of the US. Since then she has helmed the organization through a move from Sudbury Town Hall into the historic Loring Parsonage, a pandemic, and the creation of an entirely new museum. She has a BA in archaeology from the University of Bristol, and MLitt in aerial photography and geophysical survey in archaeology from the University of Glasgow. She has worked in several museums including, most recently, the MIT Museum, the MFA, and the Abbe Museum. Rachael has participated in several archeological excavations and explorations throughout Maine, Massachusetts, England and Scotland. Her niche in the field is photography. She lives in Littleton and is a member of the Littleton Historical Commission.
Francesco Buccella, Archivist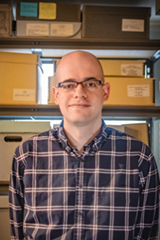 Francesco joins the Sudbury Historical Society with experience in museum, library, and archive settings. Trained as an archivist at Simmons University, he has worked for such institutions as the Harvard Art Museums, Northeastern University, and The Horvitz Collection, a world-class private collection of French art. Francesco is also a member of the Society of American Archivists and the New England Archivists. He is excited to be the Archivist for SHS and plans to make the collections even more organized and accessible to the Sudbury community and researchers.