Broadside dated March 31, 1893 announcing entertainment at Town Hall

Sudbury Historical Society Collection
Events
Next Events
Event Calendar
Past Events
Events Calendar
The Society hosts a series of programs from fall through spring. Programs are free to Society members. A $5.00 donation from non-members would be appreciated.
Most programs are held on Sunday at 2:00 PM in Town Hall (Sudbury Center) unless otherwise indicated.
You can view many of our earlier programs on Sudbury TV — see our video library for a listing.
Next Events
December 5, 2020 (Saturday) 8:00
PM
The 87th Anniversary of the Ratification of the 21st Amendment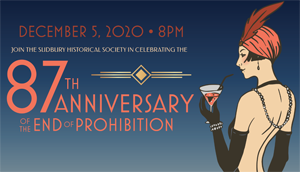 Join us in celebrating the end of Prohibition on December 5th! Each ticket to this event comes with one cocktail kit. Kits are to be picked up at either the Sudbury Historical Society in Sudbury MA or Short Path Distillery in Everett MA. Please specify which location you wish to pick up at when purchasing tickets.
During this virtual event, attendees will be taught how to make two different cocktails with the ingredients and recipes provided, while learning about distilling and the history of gin and rum and their place in history.
Each kit includes:
1 200ml bottle of SPD Gin
200ml bottle of SPD Hibiscus Rum
Ingredients for two cocktails to be made during the live event
Recipe card and instructions
Flapper attire completely optional, but strongly encouraged!
Sign up for this event at Eventbrite or use the following form to sign up:
Please contact the Sudbury Historical Society for any questions regarding this event 978-443-3747 or
info@sudbury01776.org
November 30, 2020 (Monday) - December 5, 2020 (Saturday)
Holiday Wreath Sale
Decorate your house with holiday cheer while you support the SHS! Beginning on Monday November 30th and lasting till December 5, this event is a fundraiser for the SHS which will benefit the new Sudbury History Center & Museum.
Due to COVID restrictions, the wreaths will be on virtual display this year. We are pleased to have received numerous uniquely designed wreaths from vendors and artisans around Sudbury and all will be available for purchase at our online gift shop. You can view and order from the comfort of your home and pick up can be scheduled at the Loring Parsonage when convenient!
Buy now at: SHS Online Store.
2021 Event Calendar
Due to the COVID-19 pandemic, all winter events are still being scheduled.