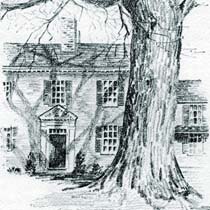 Etching from "Old Sudbury"

Pinkham Press, Boston, MA, 1929
Sudbury History Center/Museum
About The History Center
Museum Exhibits
Restoring The Parsonage
About The Sudbury History Center and Museum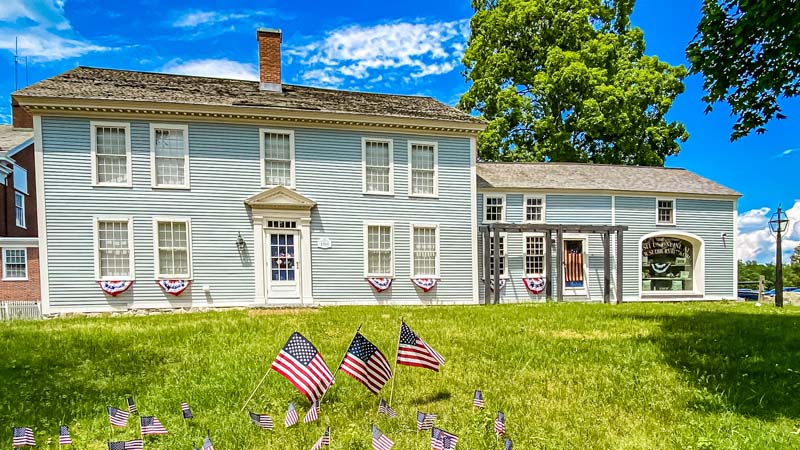 Loring Parsonage in 2021Sudbury Historical Society, Inc. Opening in July 2021, The Sudbury Historical Society finished its most ambitious project to date. Creation of the Sudbury History Center and Museum in the town-owned c1730 Loring Parsonage in Sudbury's Town Center has been a long time coming. The project has revitalized an historic town asset and allows the SHS to safely store and exhibit the SHS's collections, accommodate growing membership and volunteer corps, facilitate scholarly research, and provide a fully accessible historical resource for Sudbury's residents and tourists.
The nonprofit SHS is an active membership-based organization dedicated to collecting and preserving Sudbury's historic records, promoting study of local history, and connecting people to Sudbury's traditions through educational programming and community engagement. With a vibrant History Center we can now achieve our mission easier. Our vision for the town-owned Loring Parsonage was to create for an inclusive, active, multifunctional facility for all ages. We are so pleased to have had the opportunity to build something outstanding for Sudbury.
Why the Loring Parsonage?
The choice to establish the History Center in the heart of Sudbury was purposeful. SHS Trustees considered this decision carefully with extensive research over several years. A feasibility study proved that the Parsonage would not only accommodate SHS operations but also provide a focal point for the town's history.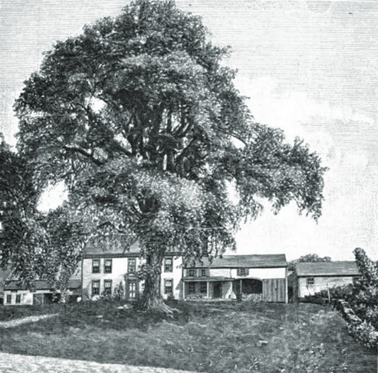 The Loring Parsonage circa 1890Etching by J. S. Conant, from Alfred S. Hudson, History of Sudbury, 1889The Loring Parsonage, home of Sudbury's first minister and later Wheeler and Haynes family descendants, is an important structure because of who lived there and because it is one of the few extant buildings of its type which, as a town resource, would be opened to the public with the SHS as the lessee. (See Sudbury History Virtual Tour for the history of the building.)
As the Town Center has just undergone infrastructure improvements the History Center will support the Town's investment in this revitalization. The location will allow greater collaboration with other historic entities there. It will promote the use of the Town Hall, Grange Hall, and park lands. The tourism potential is great. With the Wayside Inn campus in South Sudbury and the Town Center historic resources as a draw, there is no need for out-of-town guests to go far afield to learn about local history. Sudbury has what is needed and tourism dollars spent in town are a win for Sudbury.
Beyond tourism and maintaining character, the History Center will create a place for people to learn, to use their skills, to understand why Sudbury's unique past is relevant to the present — why history is important for the future of our Town.
Where We Are Now
The Loring Parsonage Renovated Gallery Space and Gift ShopSudbury Historical Society With the new Sudbury History Center and Museum at the Loring Parsonage opening in July 2021, this is an exciting time at the SHS. We are pleased to report that our online gift shop is up and running and our three museum galleries are now open. Through wall displays, the Jonathan Baggott Gallery shows a detailed representation of Sudbury's robust history from the original settlements to current day. This gallery features an interactive digital archive display and will contain a selection of Native American artifacts from the Hary Rice Collection found in Sudbury.
Two additional galleries (The Sudbury Foundation Gallery and the Stansky-Eaton/Keeny Gallery) each contain unique rotating presentations. The Sudbury Foundation Gallery will focus on the Life and Times of Israel Loring and Family and the Stansky-Eaton/Keeney Gallery will display numerous artifacts from our robust archives. It will be a view into the SHS collections.
Behind the scenes our archives are being re-organized from our move this past summer for easier research by staff and volunteers. Even a pandemic didn't slow us down!
Sketch of a display case in the Baggott Gallery
The Loring Parsonage Renovated StaircaseSudbury Historical Society