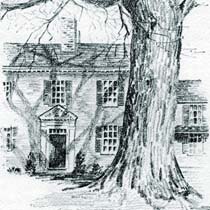 Etching from "Old Sudbury"

Pinkham Press, Boston, MA, 1929
Sudbury History Center/Museum
About The History Center
Museum Exhibits
Restoring The Parsonage
Museum Exhibits
Jonathan Baggott Gallery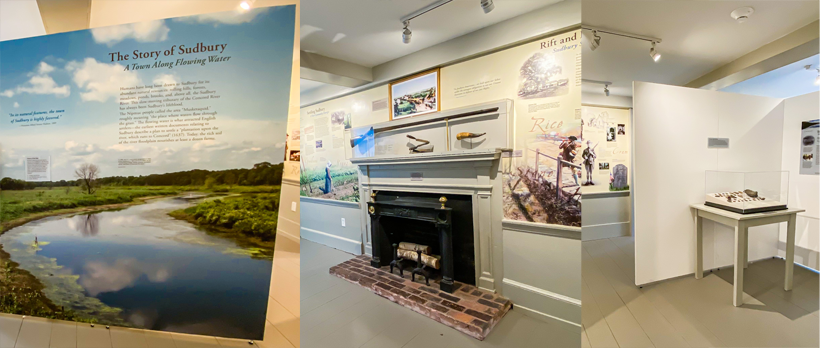 Inside the Baggott Gallery This permanent exhibit leads the visitor through the historical timeline of the town we call Sudbury. Starting with the natural landscape, the first inhabitants, colonial settlement, growth and expansion, leading to modern times. There is an interactive display to expand on stories from the walls. Artifacts on display include Native American stone tools and Revolutionary War tools of combat.
The Sudbury Foundation Gallery
Inside the Sudbury Foundation Gallery> This revolving gallery currently houses an exhibit featuring historical house building techniques, like the ones used to originally build the Loring Parsonage in the 1700's, as well as information on the Loring Family and their life in Sudbury. Artifacts depict tools for home building, and Puritan living. Original letters and diaries written by the Reverend Israel Loring throughout his life are on display as well.
The Stansky and Eaton-Keeney Gallery
Inside the Stansky and Eaton-Keeney Gallery This rotating gallery contains the history of Sudbury through artifacts from the Sudbury Historical Society's collection. Learn about Sudbury's past through such themes as business and industry, scouting, religious organizations, artistry, wartime, and more!
Patriots Day Exhibit

April 19th commemorates the 247th Anniversary of the battle of Lexington and Concord.
This mini-exhibit features artifacts and print materials from our collection focusing on Patriot's Day. This exhibit was assembled by SHS volunteer, Andrea Roessler. Thank you Andrea!
Visit the Sudbury History Center and Museum to learn about this unique local holiday. If you haven't yet visited us, make sure to come by soon!