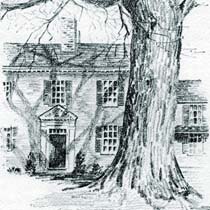 Etching from "Old Sudbury"

Pinkham Press, Boston, MA, 1929
Sudbury History Center/Museum
About The History Center
Museum Exhibits
Restoring The Parsonage
Museum Exhibits
Jonathan Baggott Gallery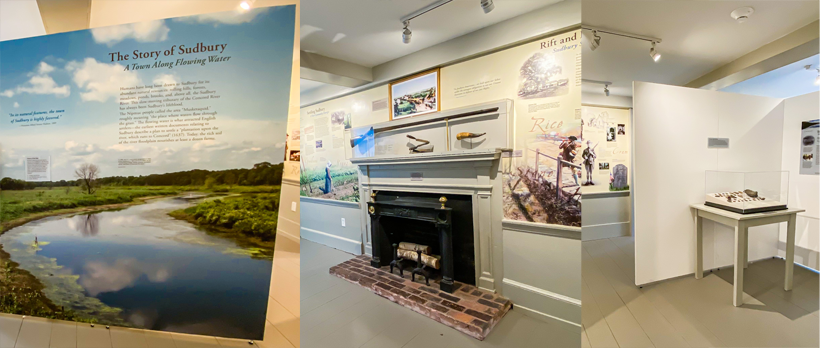 Inside the Baggott Gallery This permanent exhibit leads the visitor through the historical timeline of the town we call Sudbury. Starting with the natural landscape, the first inhabitants, colonial settlement, growth and expansion, leading to modern times. There is an interactive display to expand on stories from the walls. Artifacts on display include Native American stone tools and Revolutionary War tools of combat.
The Sudbury Foundation Gallery
Play With History Inside the Sudbury Foundation Gallery Our newest exhibit 'Play with History!' is open in the gallery. This display is for children of all ages to come and play in our new immersive exhibit based on Sudbury's history! Engage with old telephones, play with trains, plant a garden, draw some flowers, mail a letter, play school, and shop in an old general store. Everyone can get a kid friendly hands-on experience of some of the wonderful things that make Sudbury special.
The Stansky and Eaton-Keeney Gallery
Inside the Stansky and Eaton-Keeney Gallery This rotating gallery contains the history of Sudbury through artifacts from the Sudbury Historical Society's collection. Learn about Sudbury's past through such themes as business and industry, scouting, religious organizations, artistry, wartime, and more!
Newly Enhanced Portion of the Baggott Gallery Now Open
Our freshly updated Jonathan Baggott Gallery now boasts a revamped Native American display, featuring information about the New-England (Woodland) Algonquin tribes, and the Nipmuc who resided in modern day Sudbury.
This part of our permanent exhibit is meant to further educate visitors on the life and times of the land's inhabitants dating back thousands of years prior to the English colonizers.