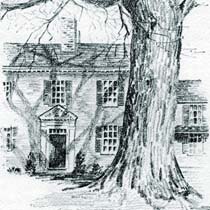 Etching from "Old Sudbury"

Pinkham Press, Boston, MA, 1929
Sudbury History Center
About The History Center
Stabilization Phase
Reconstruction Phase
Donate to the History Center
Reconstruction Phase
After stabilization of the Loring Parsonage is complete, we'll start reconstruction of the interior of the building and an expansion of the ell to provide a new entrance to the building.
Included in the repurposing plans are:
Museum exhibition galleries
Elements of architectural study to teach about early colonial building methods and design
A research lab with access to the SHS's archival collections and reference library
Meeting rooms for educational programs, school visits, and community use
A visitor's center to welcome residents and tourists
Accessible work spaces for volunteers and researchers
An ADA compliant lift and restroom
New HVAC/Electrical/Plumbing/Fire suppression systems.
Overall Plans for Reconstruction

Sudbury Historical Society
After meetings between the Sudbury Historical Society's Facilities Committee and the Town's Permanent Building Committee, Historical Commission, and Historic Districts Commission, the HDC has granted a Certificate of Appropriateness for the plans for the reconstruction of the Loring Parsonage as the Sudbury History Center. Since this building is municipally-owned, we will adher to public procurement laws for the reconstruction.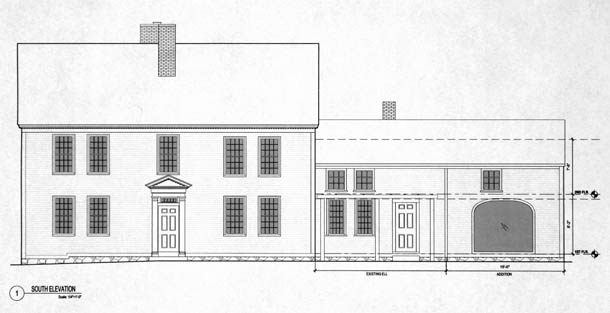 View of the South Side of the Repurposed BuildingSudbury Historical Society The plan preserves the main block of the house and the existing ell at the west end, and then adds an extension onto that ell. Museum galleries will be located on the first floor of the main block and work space for SHS staff, volunteers, and researchers will be located on the second floor along with the SHS's special archival collections. The entire site will be made accessible for persons with disabilities. The ell will also contain an accessible restroom and a small lift in order to allow access to the second floor along with a code compliant staircase. These are features that have been lacking in our current space in Town Hall and it was important to the SHS that the new facility accommodate these needs so that talented and dedicated people would not be prohibited from working at the History Center due to access issues.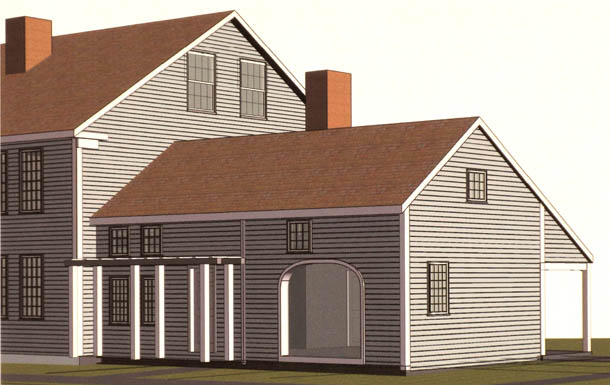 Rendering of the Expanded EllSudbury Historical Society The main entrance will be at the rear of the building through a covered porch. Upon entering visitors will be welcomed into the visitor's center and gift shop. New architectural elements in the ell area include a trellis and arched glass window that recall the look of the past in a contemporary way. The SHS is pleased with the results of our collaboration and we hope that future visitors will also enjoy the facility as well.