The Sudbury Historical Society is dedicated to bringing the rich history of the Sudbury Plantation into the lives and activities of the people of Sudbury. We collect, preserve and and communicate the history of Sudbury, Massachusetts.
Founded in 1956, and incorporating the earlier Goodman Society, the Society maintains its offices and collections on the second floor of Sudbury Town Hall. A non-profit organization, the society depends on donations of time, money and artifacts from its members and the citizens of Sudbury.
The Society has for sale a full range of books on the history of Sudbury, reproductions of Sudbury related artwork, and a variety of children's items. See our store for details.
Many questions about Sudbury's history can be answered by our historian and members. Whether you have questions about your neighborhood, curiosity about something you see in town, are interested in the genealogy of Sudbury families or you are pursuing academic research, please feel free to contact us.
Next Events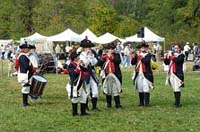 SHS at the Colonial Faire
September 30, 2017 (Saturday) 10:00 AM - 4:00 PM
At Longfellow's Wayside Inn, Sudbury.
The SHS runs a popular booth at the Colonial Faire sponsored by the Sudbury Companies of Militia & Minute and the Sudbury Ancient Fyfe and Drum Companie. Admission to the Faire is $2. See link for details.
See our calendar for information about all our programs for the year.
Talking Tour of Sudbury Town Center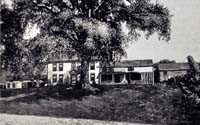 Take an audio tour of historic Sudbury Center and hear about the history of the town and its town center. You can take the tour from the comfort of your home or equipped with a mobile phone or tablet you can walk around Town Center and hear Sudburians past and present describe the Town Center.
Start the tour here: Talking Town Center Tour.
The tour is designed for all ages – tech-savvy children will especially enjoy navigating the map. Paper copies of the maps to facilitate the tour are also available in the white mailbox located at the back of Loring Parsonage near the Town Clerk's accessible entrance ramp.
New Video About the Mount Wadsworth Cemetery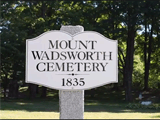 SHS summer intern Gillian Vesely has produced a video tour of Wadsworth Cemetery on Concord Road with narration by Elin Niederman. The cemetery is home to the Wadsworth Monument, monuments to the Sudbury residents who served in World War II and the Korean and Vietnam Wars, and the burial sites of over a thousand Sudburians.
See the video here: Mount Wadsworth Cemetery.
Construction of Our Sudbury History Center & Museum is Underway!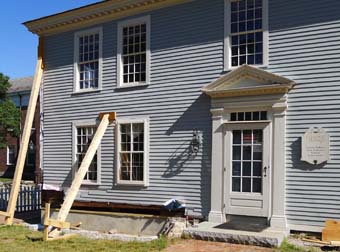 The Sudbury Historical Society is in the midst of its most ambitious project to date, creating the Sudbury History Center & Museum at the circa 1730 Loring Parsonage in the Town Center.
Restoration and stabilization of the existing building is underway and should be complete this summer. This will be followed by reconstruction and expansion of the ell on the east side of the building. Please see Sudbury History Center for details.
Our Winter Newsletter

Our latest newsletter is out. The cover story explains why history is essential and it's followed by descriptions of some important new additions to the SHS collections. There's information about School Days past in Sudbury, the Town Hall Restoration project, the Hosmer House Christmas Open House, and more! Read our Newsletter