The Sudbury Historical Society is dedicated to bringing the rich history of the Sudbury Plantation into the lives and activities of the people of Sudbury. We collect, preserve and and communicate the history of Sudbury, Massachusetts.
Founded in 1956, and incorporating the earlier Goodman Society, the Society maintains its offices and collections on the second floor of Sudbury Town Hall. A non-profit organization, the society depends on donations of time, money and artifacts from its members and the citizens of Sudbury.
The Society has for sale a full range of books on the history of Sudbury, reproductions of Sudbury related artwork, and a variety of children's items. See our store for details.
Many questions about Sudbury's history can be answered by our historian and members. Whether you have questions about your neighborhood, curiosity about something you see in town, are interested in the genealogy of Sudbury families or you are pursuing academic research, please feel free to contact us.
Next Events
June 1st, 2016 7:00 - 9:00 PM (Wednesday)
The History of Power Line Battles
At First Parish Church, 327 Concord Rd, Sudbury
In the 50's and again in the 60's Boston Edison attempted to put high tension power lines through Sudbury. Knowing this history is important to understand the town's battle with Eversource today. A look back at the attempts to put high tension lines through Sudbury will be presented by Katina Fontes former professor of History and Heritage Studies at Regis College. Chris Hamilton, Board Member of Protect Sudbury, will conclude the program with a brief update on Protect Sudbury's efforts.
Presented by the Sudbury Historical Society and Protect Sudbury. Following the presentation an informal gathering and discussion will be held. Light refreshments will be served. Suggested donation is $10.00 with proceeds to benefit the Protect Sudbury Legal Defense Fund in our fight against Eversource.
June 5th, 2016 2:00 PM (Sunday)
History of Wolbach Farm
At Wolbach Farm, 18 Wolbach Road, Sudbury
Alice Wellington, a Concord-based photographer and grand-niece of Burt and Anna Wolbach who bought the farm in 1936 will present family recollections and the accomplishments and pursuits of the Wolbachs.
Known as Winter Brook Frarm, the home of Dr. S. Burt Wolbach, a prominent Harvard Medical School pathologist and his wife, Anna Wellington Wolbach, a Radcliffe alumna, was the gathering place for family Thanksgiving celebrations for generations. The home was named for the stream that ran trough the farm all winter long.
Presented in collaboration with the Sudbury Valley Trustees who will lead a walking tour of the grouds after the program.
Prior to the presentation, the SHS will conduct a brief Annual Meeting and Election of Officers and will provide an update on the status of the Sudbury History Center project at the Loring Parsonage.
See our calendar for information about all our programs for the year.
Thank you for voting YES on Article 41 to Make History with the
Sudbury History Center & Museum At Annual Town Meeting
The Sudbury Historical Society is in the midst of its most ambitious project to date, creating the Sudbury History Center & Museum at the circa 1730 Loring Parsonage in the Town Center.
The Sudbury Community Preservation Committee has allocated $400,000 to the Historic category from its Historic Reserves and FY17 Revenue to support this project. At Town Meeting on May 2 residents voted YES to appropriate those funds. These funds are critical to our funding plan. For more information, please see here.
SHS Gets Wrapped Up in History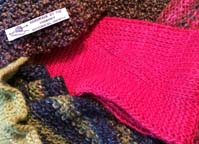 To raise its community profile the SHS unveiled a new project this fall called Project Scarf Wrap an innovative twist on traditional yarnbombing tactics used by community groups looking to garner attention for causes. Yarnbombing is a form of temporary graffiti, or kniffiti, that uses installations of colorful knit yarn art that can be found in unlikely places. The SHS, however, yarnbombed with a purpose by creating hand-knit scarfs that are useful items people might need and want to wear when they were found around town.
For more about our scarf wrap and agriculture in Sudbury go to Sudbury Scarf Wrap.
Photo Contest Sponsored by the Sudbury Historical Society
Over 160 photographs were submitted to our Photo Contest celebrating Sudbury's 375th birthday. All the photographs are outstanding and truly capture our town. Four were selected as the best: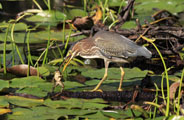 For more information see Photo Contest. To see all the photographs, visit our Flickr Account.
Tour the Town's History

Take a tour of 35 historic sites in Sudbury without leaving your comfy chair. Or, hop in the car and stretch your legs with the three hour long driving and walking version of the tour. See our Historic Sudbury Tour
Do you "Heart" Sudbury History?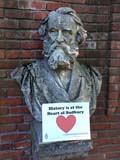 The Sudbury Historical Society has started a new photo campaign as a reminder that "History is at the Heart of Sudbury." Show you care about Sudbury's history by sending us a photo!
The SHS is asking you, our townspeople, to think about how you see that "History is at the Heart of Sudbury" by taking a photograph of yourself, your family, or a group to which you belong somewhere in Sudbury along with a copy of our special heart sign. Places you might consider for backdrops are in front of our historic properties, on our conservation trails, at Town buildings, at school, at club meetings, at a favorite store or restaurant - anywhere!
For details on how to submit your photograph, go to I Heart Sudbury.
Your friends and neighbors are submitting their photographs. See our growing collection of hearts at Flickr.
Our Winter Newsletter

Our latest newsletter is out. The cover story describes the history of Town Center from 1650 to 1857. There are articles about the beginning of our new History Center, a short history of the Sudbury Police and their stations, the story of Harry C. Rice, news from our Scarf Wrap, updates on the collections and on members, info on researching town records, and more. You can read it here if you aren't on our mailing list or misplaced your copy. Read our Newsletter